Robust, reliable and automatic

Round, square and rectangular tubes.
Cut tubes up to
mm in diameter
Cut parts up to
mm in length
Program
different cut lengths on each bar
Continuous measurement changes for small batches.
Cut up to four different parts from the same bar with the motorized locator that moves quickly along the feeding line to intercept the programmed lengths.
The part arrangement is automatically optimized by the machine to maximize material utilization.


To keep your production organized, the machine can be programmed to unload parts by length to up three different unloading positions plus the scrap container that can be programmed as a fourth destination.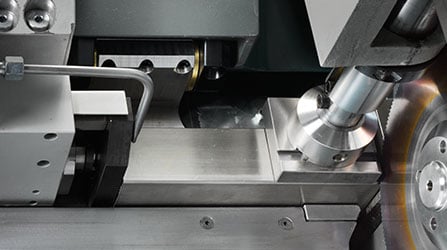 Non-stop, unmanned production.
Round, square, rectangular, flat-oval sections (and other) can be loaded without needing specific equipment. Production changes are automatic and no tools are needed. The bundle loader holds up to 4000 kg of ready-to-cut material.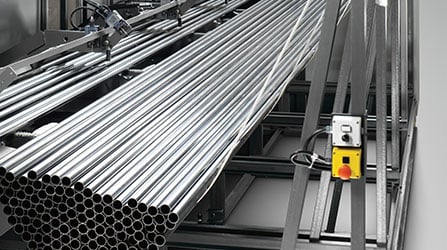 Better cuts and less wear.
Independently operated hydraulic material clamps
on either side of the saw blade, with adjustable
pressure, ensure positive clamping of the workpiece
and the highest cut accuracy.


During the return movement, the blade and clamps detach from the material to prevent unnecessary wear.