PartViewer
Graphic simulation
and estimation of times and costs
Detailed preview for safe results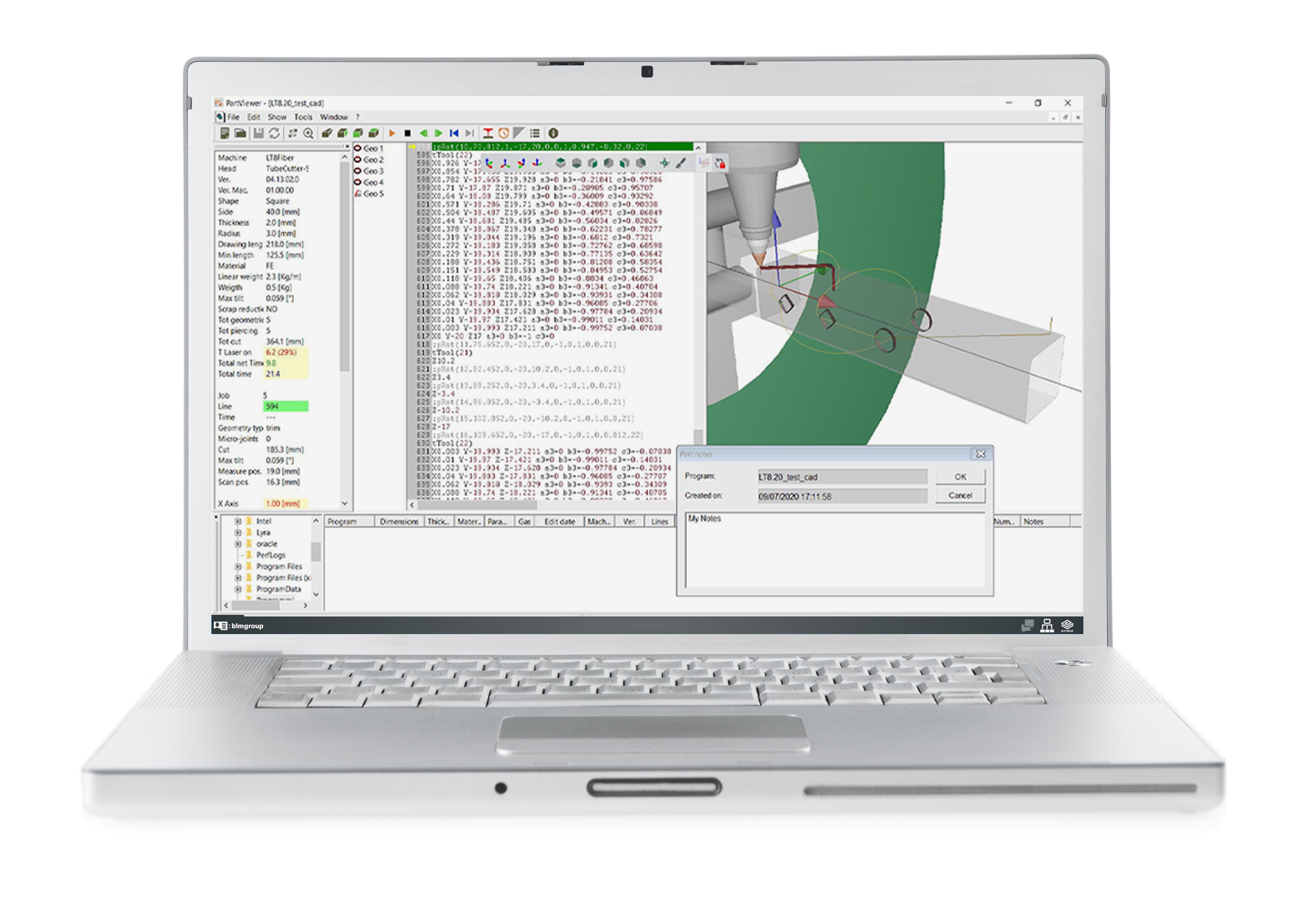 PartViewer is the BLM GROUP proprietary software for the real simulation of the part and the estimation of machining times and costs.
Realistic and detailed part program simulation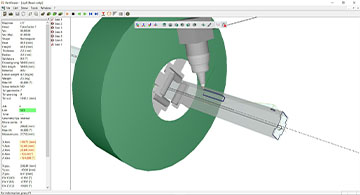 No detail is by chance
PartViewer shows the detailed execution of the designed part in terms of cutting the geometries, process parameters, technological options, and simulation on the 3D interface.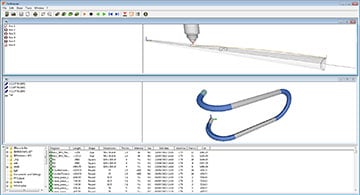 Check the process before sending it to the machine
Watch each process on the workpiece, active components, and machine movements in detail. Identify any critical issues in advance, before processing on the machine. PartViewer offers realistic simulation as it uses the same technological database as the system.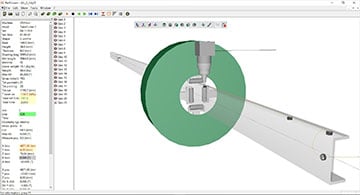 The ideal tool to validate machining on critical profiles and special sections
PartViewer simulates processes on complex parts and special sections and identifies any critical corrective actions during programming.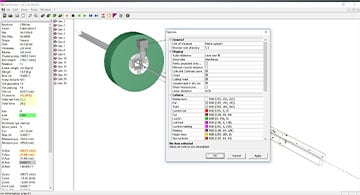 Effective and intuitive graphic interface
The 3D graphical interface features zoom, views, detail windows, and selection tools to display the elements involved in the simulation with absolute precision. No detail is overlooked.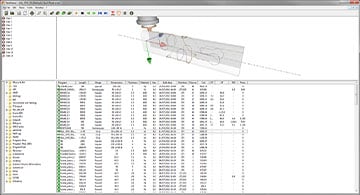 Quickly retrieve the part programs in your archive
Save time by viewing a sorted list of all the part programs in your archives. You can optimize your activities by filtering the database by section, material, thickness, technology, plant location or customer.
PartViewer calculates an accurate estimate of hourly productivity and part cost taking into account fixed and variable cost components.

Get your quote easily and automatically.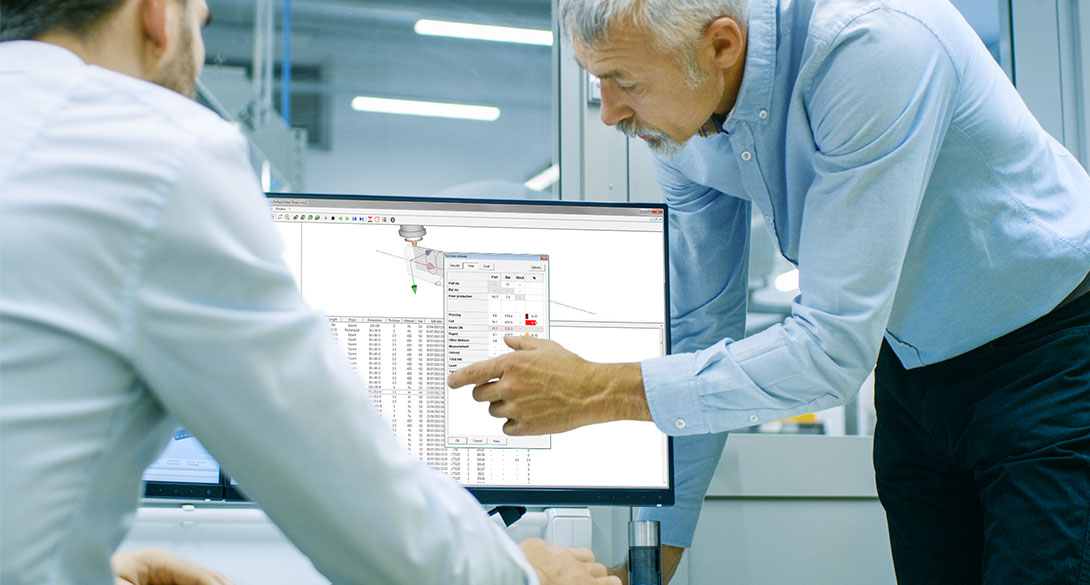 Oltre l'importazione di file 3D.
Con Artube non solo potrai creare un pezzo con assoluta precisione, ma potrai apportare modifiche e migliorie agli elementi importati come se il pezzo fosse nato direttamente nel software.
Gestire telai e strutture complesse non è mai stato così semplice.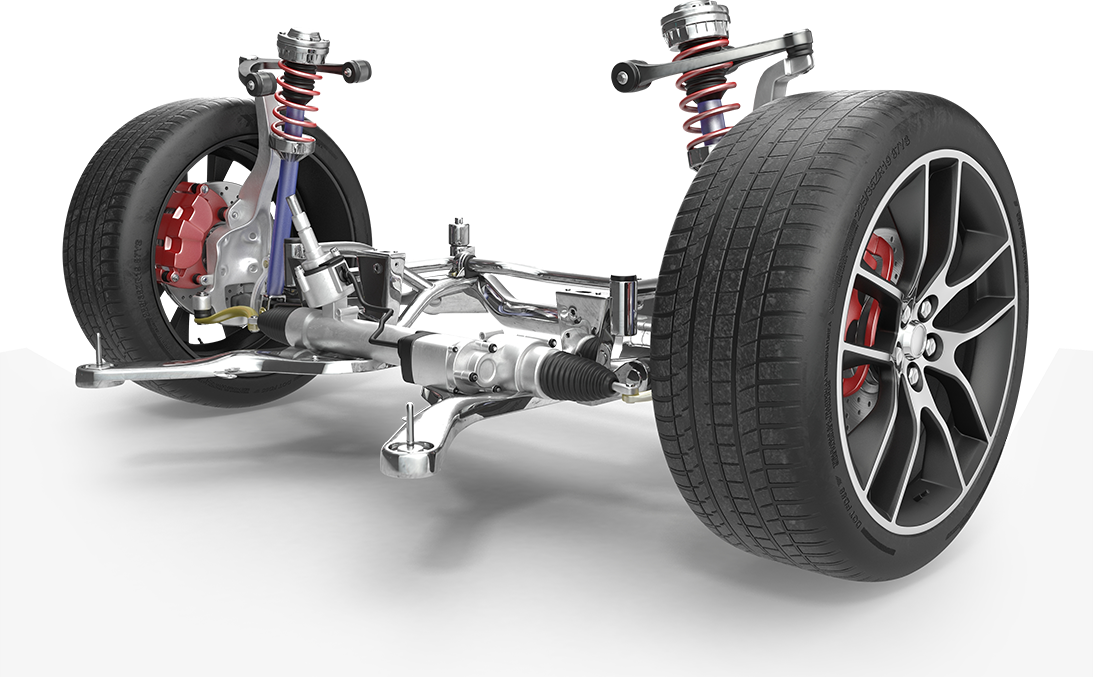 Aperto al mondo strutturale.
Importa i file IFC del tuo progetto strutturale con assoluta fedeltà e precisione, semplifica la lavorazione di grandi profili in acciaio, ottimizza il disegno dei singoli componenti e degli assemblaggi. Questo grazie all'adattabilità di Artube ai progetti strutturali.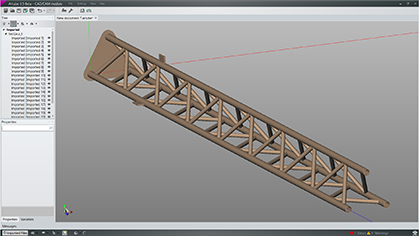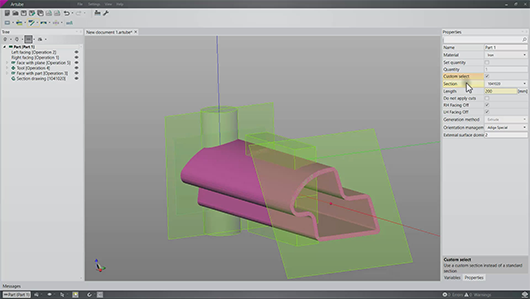 Gestisci le sezioni speciali come fossero standard.
Grazie al software completamente parametrico potrai manipolare, modificare, correggere e persino sostituire le sezioni di un pezzo in pochi passaggi, velocizzando e semplificando sensibilmente i processi. Con Artube puoi gestire con semplicità tutte le sezioni, anche quelle create da te.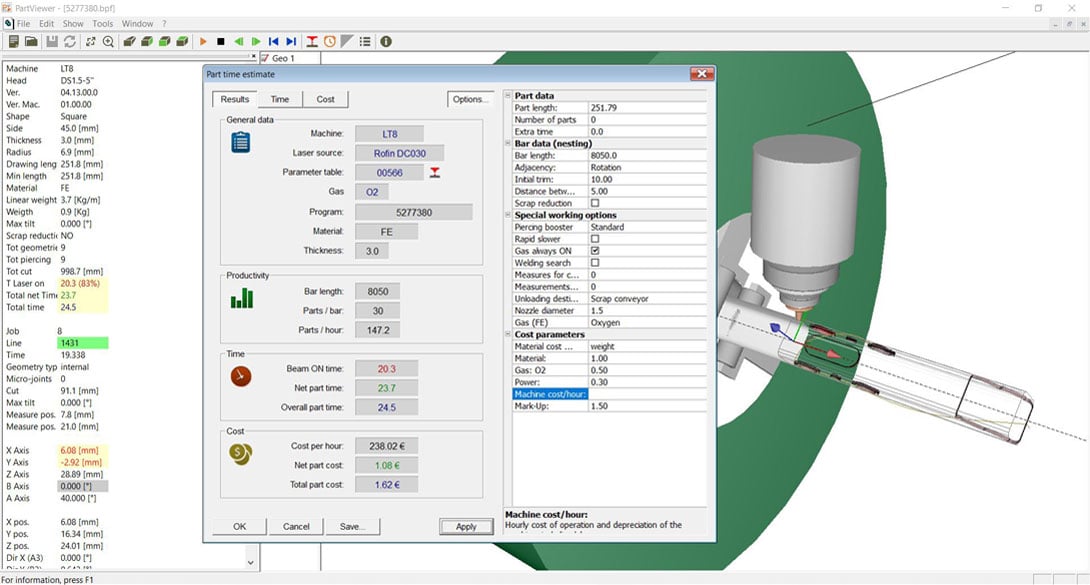 Parametri di costo personalizzabili.
Imposta le tue preferenze ed i tuoi parametri di costo per ottenere dal sistema una stima precisa del costo pezzo ai fini della preventivazione o per il confronto immediato fra differenti strategie di lavorazione.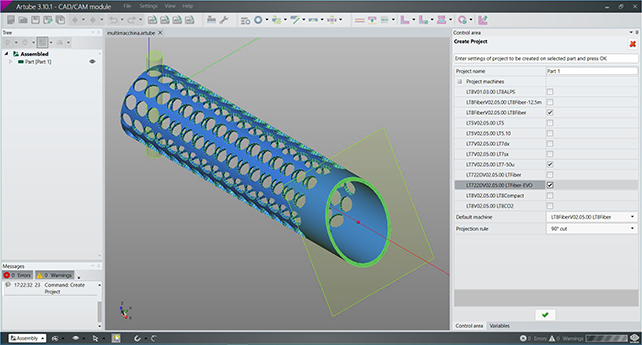 CAM: ottieni il meglio dalla tecnologia di taglio.
.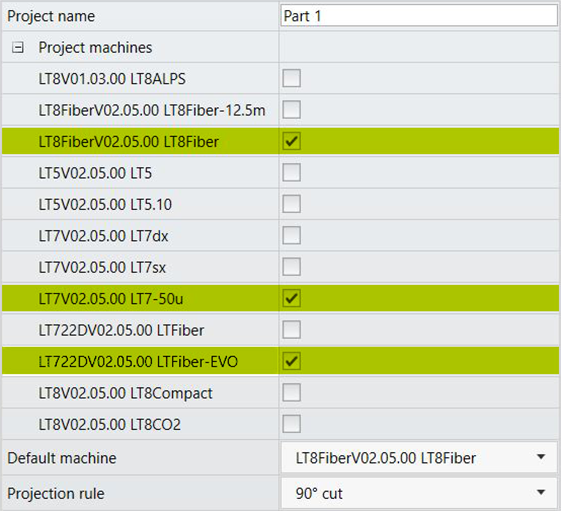 Componi il tuo progetto come un lego.

Componi i tuoi pezzi come fossero dei lego. Genera in Artube i modelli e replica in Composer i pattern, definendo facilmente le relazioni geometriche e le regole di ripetizione. Puoi generare oggetti complessi sia attraverso l'intuitiva interfaccia grafica che con automatismo direttamente dal tuo ERP!

Il modo più semplice e veloce per generare il programma pezzo.

Trascina i file 3d nelle tue cartelle e ottieni automaticamente il programma pezzo. Con Automator non dovrai più preoccuparti della programmazione, il software svolge autonomamente il lavoro in base alle tue preferenze. La migliore soluzione per garantirti automazione, efficienza e flessibilità!

La potenza di Artube fruibile direttamente da Solidworks.

Artube si integra con Solidworks per la realizzazione di pezzi singoli e telai. Richiama direttamente da Solidworks le librerie di calcolo di Artube per generare automaticamente il tuo programma pezzo, con un grande risparmio di tempo e energia.
Funzionalità avanzate ArTube.
Taglio 2D o 3D
Marcatura parametrica
Analisi Tubo Curvo
Ricerca saldatura
Variabili
Microgiunzioni
Tagli piega
File 3D
Taglio 2D o 3D:
scegli la tecnologia migliore per il tuo lavoro.
Potrai scegliere liberamente la migliore tecnologia per il tuo lavoro, sia esso in 2D o 3D, fin dalla fase di disegno.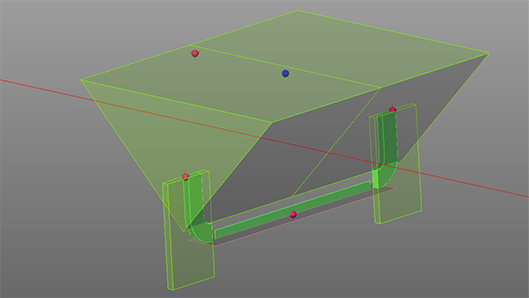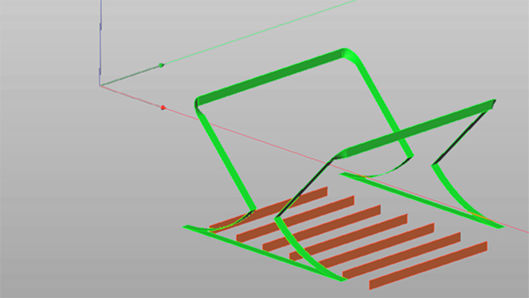 Opzioni di snervamento su taglio-piega
La libreria dei tagli piega si arricchisce di nuove interessantissime funzionalità.
Tagli di indebolimento e dentini di scanso, completamente parametrici, favoriranno la piegatura della tua barra in caso di spessori elevati.
Ribaltamento automatico del pezzo in CAM
Il CAM di Artube, assecondando le tue preferenze, capovolgerà direttamente il tuo profilo conformemente per ottimizzarne la lavorazione in macchina e aumentare la tua produttività!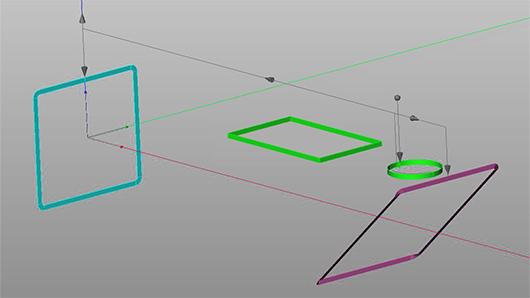 Scopri se il nostro software ti è utile.
Puoi provare il nostro software gratuitamente per 30 giorni.
E poi, se lo è, puoi acquistarlo.
Puoi provare il nostro software gratuitamente per 30 giorni.
E poi, se lo è, puoi acquistarlo.

" data-context-id="full-width-cta">