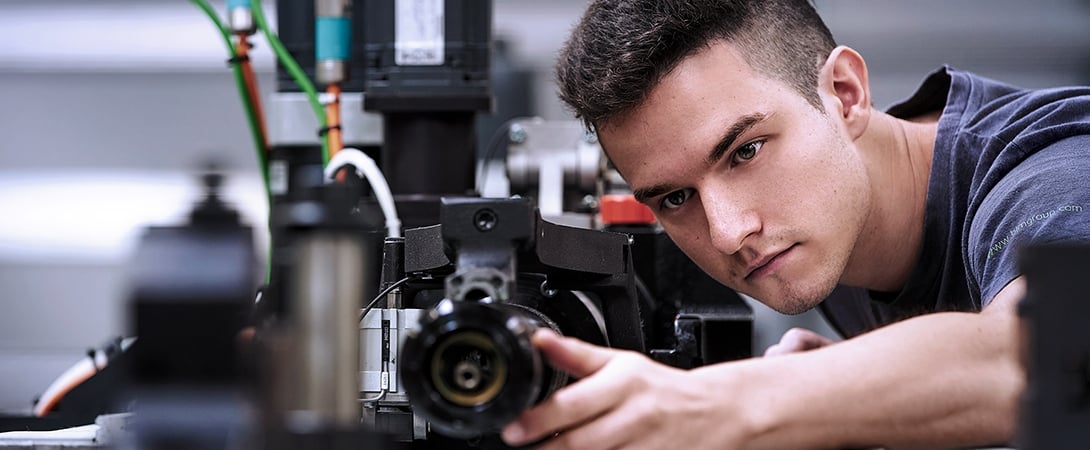 Tecnico di montaggio meccanico-meccatronico
Operations
Levico Terme (TN)
The position reports to:
Responsabile di produzione
Con l'obiettivo di rafforzare l'area Produzione, stiamo ricercando candidati in possesso di diploma tecnico a indirizzo meccanico- meccatronico, da specializzare nei processi di montaggio di macchinari industriali.
Responsibilities and activities:
Montaggio di componenti elettro-meccanici di elevata precisione;
Effettuare in autonomia regolazioni meccaniche di precisione, utilizzando specifici strumenti di misura (centesimale e sub-centesimale);
Contribuire alla corretta gestione delle procedure e della documentazione;
Supportare occasionalmente attività di formazione svolte in reparto, rivolte ai neo-assunti e ai tecnici di assistenza, anche di filiali estere.
Diploma Tecnico, a indirizzo meccanico e meccatronico;
Conoscenza dei principali strumenti di misura (micrometro, calibro, comparatore);
Buona manualità tecnica (possibilmente esercitata nel tempo libero);
Interesse per l'automazione industriale;
Conoscenza della lingua inglese (livello B1);
Buone competenze interpersonali, utili a rapportarsi in modo propositivo con colleghi e superiori;
Capacità di lavoro in autocontrollo, orientamento alla qualità, impegno e responsabilità;
Capacità di lavorare con metodo, mantenendo un livello elevato di ordine e pulizia, funzionale al corretto svolgimento delle attività affidate.
Esperienza, anche di breve durata, in attività di cablaggio meccanico.
In caso di candidature interne al Gruppo BLM, l'iter di gestione della candidatura prevede di verificare la possibilità di cambiare ruolo con il responsabile di riferimento.
Le nostre ricerche di personale rispettano le pari opportunità e la diversità interpersonale.
Per il desiderio di creare una buona sinergia con tutti coloro che rispondono alle nostre opportunità, si informa che qualora non si riceva un riscontro diretto da parte del Gruppo BLM nell'arco di 30 gg. dall'invio della candidatura è opportuno considerare la valutazione del CV non in linea ai requisiti delle posizioni vacanti.